I am a great fan of the old British sitcom Yes Minister. For those who may not be familiar it is about the plight of a politician, Jim Hacker, who constantly fights to maintain his position in the face of external events outside his control and the obduracy of his civil servants.  Apart from being very funny it has proved to be excellent training for a career involving large corporations and global standards bodies.
In one episode of Yes Minister, Jim Hacker has been talking to a European Commissioner about food standards and naming. The Commissioner is concerned that British sausages contain very little meat and are generally made of dubious content:
'Bernard (Jim's secretary): "They can't stop us eating the British sausage, can they?"
Jim Hacker: "No, but they can stop us calling it a sausage. Apparently it's got to be called the Emulsified High-Fat Offal Tube."
Bernard: "And you swallowed it?"'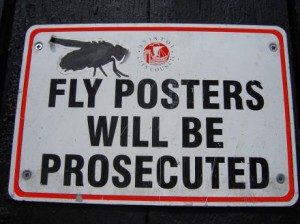 This came to my mind when thinking about reports that an ISP in the US could be injecting advertising on top of popular web pages. To me, if you are going to describe your service as Internet access then this means you will attempt to provide access to data on the Internet without undue interference. If the reports are true then in this case the ISP is adding advertisements on top of the Internet content. In the physical world we have a name for the practice of sticking unauthorized advertising on top of other peoples' property. We call it fly posting.  Fly posting is a seedy business popular with get rich quick schemes, dodgy night clubs and "adult services". Because fly posting is such an eyesore most cities now have very strict bylaws that manage the problem and fine the perpetrators.
It seems that there may be ISPs who are being tempted to become fly posters by the possibility of getting some new revenue. I invite them to think about the kind of companies that get involved in fly posting in the real world and perhaps to reconsider their position.  In the meantime, consumers need some real guidance as to what service they are getting when they sign up for Internet service. As with the Commissioner's proposal for the British sausage it should be somehow more accurately descriptive of the product on offer. I suggest "Spam Producing Internet Manglers" (SPIMs).